Dear Members We have started another year with new committee, who have very high hopes and aspiration to provide you all with a fun filled year of events. Sadly, their desire to organise events, is however quickly dashed due to non-support from the community. Our organisation in the early days flourished as a result of the whole hearted support and backing received from the community members. I have to commend these individuals who join the working committee, for having the optimism and desire to maintain the momentum.However as experienced in the previous years, these members have sad faces as time progresses, due to lacklustre support and attendance, and for some not to stay on the working committee the following year. Apologies for my pessimism, if we as a samaj do not wake up and revive Bardai Brahmin Samaj London, the outlook is very bleak, therefore my request to you all, is provide your support and make 2019 a year to remember when this dying samaj was brought back to life by your support. Best wishes Jai Shri Krishna! Jai Shri Trikamjibapu! Bhasker Dave
| | | |
| --- | --- | --- |
| | Find Us On Facebook | |
Bhagavat Gita
T
he Bhagavat Gita occurs in the Bhishma Parva of the Mahabharata and comprises 18 chapters from the 25th through 42nd and consists of 700 verses. Its authorship is traditionally ascribed to Vyasa Muni, the compiler of the Mahabharata.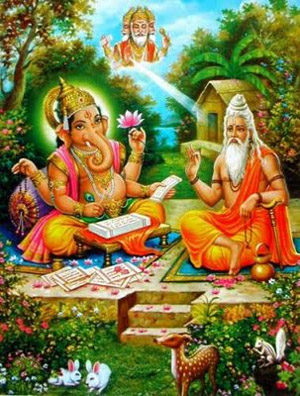 Within the text of the Bhagavat Gītā itself, Lord Shri Krishna states that the knowledge of Yoga contained in the Gītā was first instructed to mankind at the very beginning of their existence. Although the original date of composition of the Bhagavad Gita is not clear, its teachings are considered timeless and the exact time of revelation of the scripture is considered of little spiritual significance.
You will find that the Bhagavat Gita is a unique book. If you truly consider its work as the written word of the Lord, then you will / should realise that its meaning is eternal and never-ending. That is to say, it will always provide you an answer and the answer will always be correct – eternally, for how can the word of the Almighty be limited!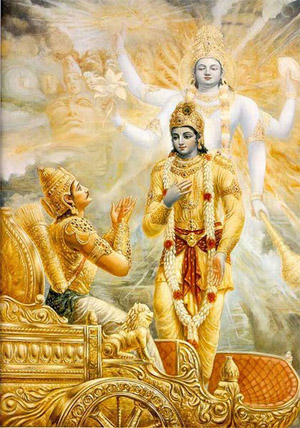 Please find below a downloadable PDF version of the Bhagavat Gita as well as a link to an audio file